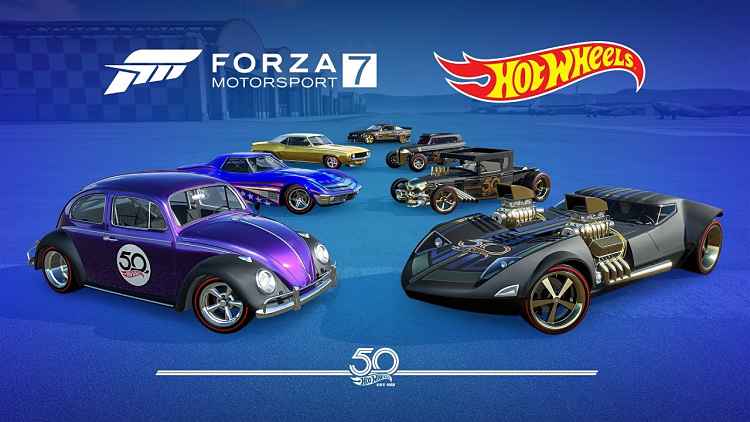 Forza Motorsport 7 adding Hot Wheels in new DLC
Posted on:
October 31, 2018
/
So in case you didn't know, its the Hot Wheels franchise's 50th anniversary this month, and there's a reason it's relevant to video games.
Turn 10 Studios and Mattel have teamed up to bring a pack of seven new vehicles to Forza Motorsport 7. The DLC that adds these new cars will be free for all players. The update will drop on November 7, 2018. This means the racing will now have literally have more than 700 cars to fool around with in-game. Let's just hope there's more collabs on the horizon for Forza with other iconic properties.
Strangely enough, this isn't the first time we've seen a crossover between Forza and Hot Wheels brands. Sure, it's kind of absurd to see lifesize variants of toy cars from our childhood zooming around in racing games nowadays, but it's still fun to see for the sake of nostalgia. And the companies involved seem to agree, as Forza Horizon 3 had a similar deal with Hot Wheels, wherein an entire expansion with new cars and tracks was added to the game, themed around the famous toy brand.
Here's the full list of new cars from the new Hot Wheels for Forza Motorsport 7 pack:
2011 Hot Wheels Bone Shaker
 2017 Hot Wheels Rip Rod
1969 Hot Wheels Twin Mill
2005 Hot Wheels Ford Mustang
1969 Hot Wheels Chevrolet Camaro Super Sport Coupe 50th Anniversary Original Version
1970 Hot Wheels Chevrolet Corvette ZR-1 50th Anniversary Original Version
1963 Hot Wheels Volkswagen Beetle 50th Anniversary Original Version
Check out the trailer for this new piece of racing content down below.
ISKMogul is a growing video game publication that got its start covering EVE Online, and has since expanded to cover a large number of topics and niches within the purview of gaming.