The new River Raids update in Assassin's Creed Valhalla has added a ton of new stuff to do in the game. As you trek across the ancient Viking land, you will find new PvE challenges to complete. The big focus of the new patch is on sending out raids against high-level locales to claim rare drops and various resources. This all makes the endgame much more interesting. Along with that feature, there are some new quests in the game. One of these new quests is called The Legacy of Saint George and involves hunting some rare artifacts. For part of that, you need to find something called the River Exe Map Clue. Each part of this quest involves finding three total clues: the Exe, the Dee, and the Severn.
Here's where to find the River Map Clue for River Exe in Assassin's Creed Valhalla. This means heading to a certain location on the map and hunting for the items you need. The item can be spotted with Odin's Vision, so keep that in mind.
Where to Find the River Exe Map Clue in Assassin's Creed Valhalla
The River Exe Map Clue can be found at Escanceaster Monastery. It's located on the east side of the river, nearby to the center of the map of that zone. The Monastery is a guarded location of high-level enemies, so a weaker player might want to try sneaking if they can't fight their way through. Here's where to look for it on the overland map.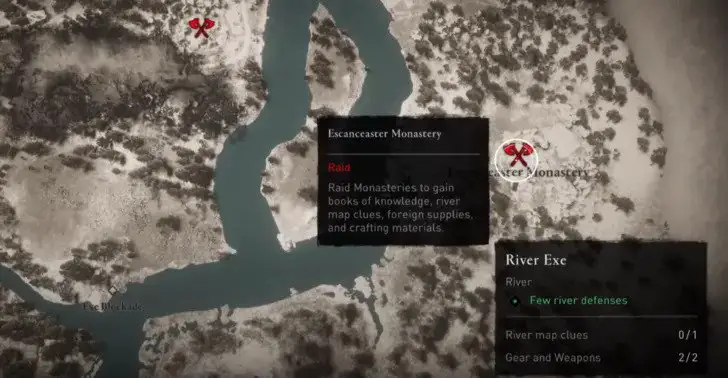 Once you're inside and past the guards, it's time to find your goal. Look on the eastern side of the camp and find the church. Inside are some hidden items that you need to trigger Odin's Vision to find. Look for the desk with scroll on it, and it will lead you to the Cape and Shield of Saint George. That's the first part of this quest down.
The products below are affiliate links, we get a commission for any purchases made. If you want to help support ISKMogul at no additional cost, we really appreciate it.