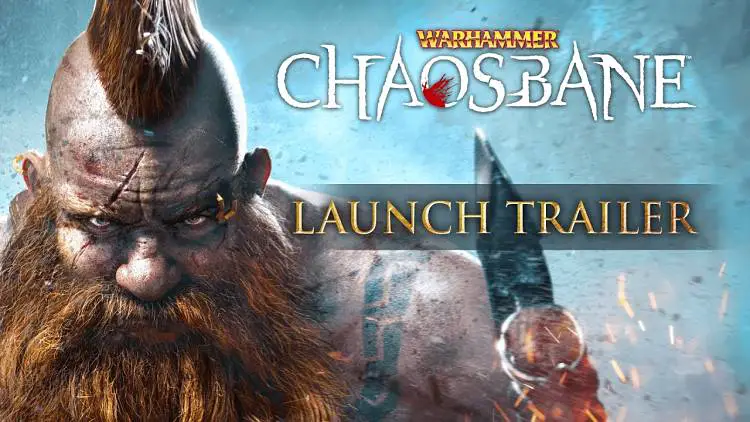 Warhammer: Chaosbane out now, check out the launch trailer
Posted on:
June 4, 2019
/
Warhammer: Chaosbane, the new ARPG from Eko Software and Bigben Interactive is out now. And the new trailer for the game showcases all the different aspects of the game taht are on offer for RPG and Warhammer fans alike.
There are four classes, each with their own skill trees and 50 levels of badassery, each offering their own playstyles. Konrad Vollen the soldier, Elontir the mage, Bragi Axebiter the dwarf Slayer, or Elessa the Ranger all stand ready to fight a war against the four Chaos gods. as you journey across three kingdoms and four acts, one of the major forces of Chaos stand in your way.
The game includes dozens of beasts to slaughter, and whether they be servants of Khorne, Nurgle, Tzeentch or Slaanesh, they each offer their own unique challenges. And with four classes of gear to farm and upgrade, players can gain some pretty insane bonuses. As the player progresses through the story, taking down demons by the thousands, they're just building their strength for the real challenge.
With 8 levels of difficulty and three different endgame modes, players will have plenty to do after completing the main story. Farming bosses to master the bossfight mechanics in Boss Rush is your first step. Then you should run through the randomly generated Expedition Mode, complete with special events that speed of leveling and drop increasingly powerful gear. The final step to playing the game is the Relic Hunt. This incredibly difficult map run involves players having to clear an entire map of Chaos spawn in order to claim rare loot.
Eko software is also planning to release new difficulty modes and more endgame options as post-launch DLC. There are also plans to drop more story DLC too.
Warhammer: Chaosbane is out now for PS4, Xbox One and PC. You can check out our review of the game as well if you're not sure if you want to pick it up.
ISKMogul is a growing video game publication that got its start covering EVE Online, and has since expanded to cover a large number of topics and niches within the purview of gaming.