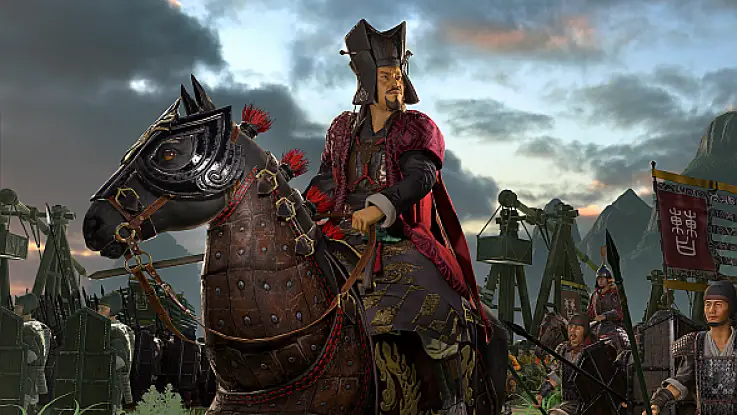 Total War: Three Kingdoms gets first set of trailers
Posted on:
June 13, 2018
/
Total War: Three Kingdoms is the next game in the Total War series, and it's taking some new liberties with history and personal relationships that the series isn't used to, but in a good way.
A new blog post has gone up on the CA site which looks at the game's Classic Mode which will provide a more historically "authentic" Total War experience. Speaking to PCGamesN, lead designer Simon Mann and game director Janos Gaspar had the following to say on how they wanted to craft the narrative and gameplay around this vital period of history.
"One of the things we realised very early on is we can't do the period justice without characters being at the forefront of the game," Mann says. "If you read either The Romance or the Records of the Three Kingdoms, which are two of our core sources, you'll know that it's all about the characters. The Records themselves are a list of people and what they had done, and it just shows how important people are – be they great heroes or evil villains, they're at the core of what makes this period so interesting."
Also speaking about one of the central historical figures, and one of the leaders players can take control of, Cao Cao, the devs really hammered home their feelings about presenting the subject matter with the respect it deserves.
"We want you to know who Cao Cao is. You're in his shoes, and his personality traits will match our reading of him and how he acts in the novel and in the Records. The idea is every chatacter is born with their personality, right? It's kind-of in you at birth, you've got a fate, it's deterministic for you, and you're discovering it as you travel through the great mystery that is life."
One of the core elements of the design for Total War: Three Kingdoms centers on the concept of guanxi, which is all about building personal relationships. It's the task of building and maintaining alliances during this chaotic period that will be key to success in the game. The facets of each unique relationship between each character are varied and can shift due to a variety of factors as well. Just like in real life where interpersonal conflict can shape experiences and change lives, Total War: Three Kingdoms wants you to really feel every betrayal, change in opinion or other alteration.
If one of your allies is taken to a dark and depressing mood by a turn of bad fortune, that could have major impacts on the entire game through a cascade of shifting loyalties and priorities should that person betray the trust of another.
The game has a total of 11 playable factions, with several main leaders. The game begins with the collapse of the Han Dynasty, and the brutal tyrant Dong Zhou having taken the throne with the backing of his adoptive son Lü Bu. Total War developer Creative Assembly has stressed that Three Kingdoms mirrors the 14th century novel Romance of the Three Kingdoms in romanticizing the real conflicts of the period through a fantastical lens. As one would expect with this setting, mythical and legendary abilities that define your leader will be a staple.
If you want to see more about Total War: Three Kingdoms, check out the gameplay trailers down below.
You can wishlist Three Kingdoms on Steam here. Three Kingdoms was recently delayed out of autumn this year and is now due to release in spring 2019.
ISKMogul is a growing video game publication that got its start covering EVE Online, and has since expanded to cover a large number of topics and niches within the purview of gaming.