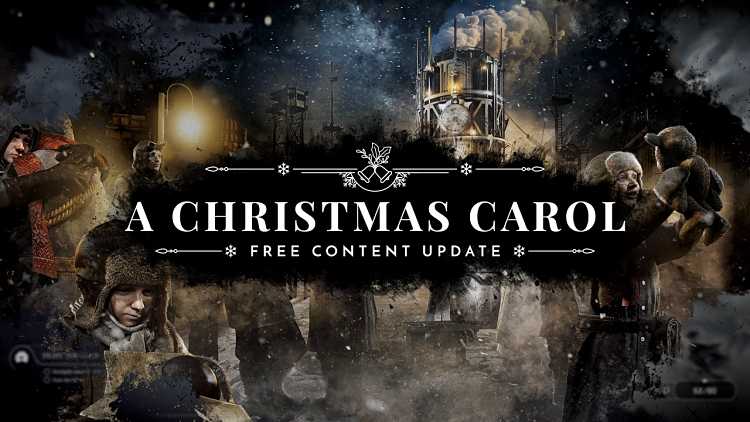 Frostpunk gets festive with new 'A Christmas Carol' update
Posted on:
December 20, 2018
/
Frostpunk is already a Dickensian nightmare, what with its Victorian Steampunk aesthetic and constant strife, but now 11 bit Studios is leaning fully into its roots with the launch of a new holiday-themed update constructed around an iconic bit Dickens literature.
In the new A Christmas Carol update for Frostpunk, which is free for all by the way, we're taking a dark new path when it comes to the timeless Christmas classic. The free update enables a new quest line, centered around Dickens' writings, but with a much more melancholic tone. This quest will be added to the Endless Mode, which was added a while back as another free update.
The Endless Mode is a wide open sandbox, so you're free to experiment and see what else there is to uncover once you wrap up the newest content. Although I have a bit of advice, in the words of Tim Curry post-slap in Home Alone 2, "Do bundle up, it's awfully cold outside."
For those that are unaware, Frostpunk is a dark and introspective city-builder set in the late 19th century after mass-industrialization has ruined the global climate, thanks in part to rapid technological advancements. And now, the last vestiges of humanity cling to their last hope, the same technology that help destroy the planet. In an icy wasteland, a giant steam generator will either become the salvation of all life, or forever mark their frozen tomb, and only your choices can decide which path the timeline goes down. As you play, new events and political tensions develop, forcing you to make harsh decisions. Do you starve one section of the population for the sake of another? Do you allow some people to freeze to death to heat the homes of your workers? All these quandaries and more await you in Frostpunk.
Check out the trailer for the A Christmas Carol update down below.
ISKMogul is a growing video game publication that got its start covering EVE Online, and has since expanded to cover a large number of topics and niches within the purview of gaming.