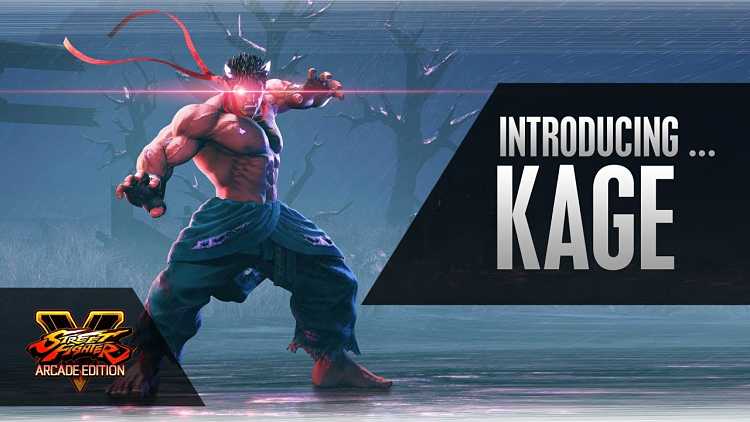 Capcom announces new character and balance changes in Street Fighter V: Arcade Edition
Posted on:
December 17, 2018
/
The Capcom cup has marked the end of a season, and with it, Yoshinori Ono has unveiled a new World Warrior that will be joining the roster of Street Fighter V: Arcade Edition. This warrior is known as Kage, and is the embodiment of "Satsui," which is a raging spirit that was born out of humanity's never-ending obsession with power. Kage is currently available and is the first new character unleashed for the upcoming season. those interested can purchase him for $5.99/€5.99/£4.99 or 100,000 Fight Money.
Those who have played through the Street Fighter V General Story my recall that Ryu managed to overcome the "Satsui no Hado," which could hypothetically overtake him and turn him into Evil Ryu at any given time. Against Necalli, he managed to regain his former self, but now "Satsui no Hado" is back, manifesting itself into its own physical form as the new character Kage. Capcom has released a trailer showing off the newest World Warrior's moveset and background, which you can check out below:
In addition to Kage being released today is a new downloadable update for Street Fighter V: Arcade Edition that brings a variety of balance changes for the rest of the characters. These balance changes include brand new moves for five of the warriors; F.A.N.G, Vega, Chun-Li, Abigail, and M. Bison. These moves will help to enhance each character's playstyle.
All of these updates for Street Fighter V: Arcade Edition also come with the announcement that the Capcom Pro Tour will return for a 2019 season, with the first premier of the season currently scheduled to take place on March 15, 2019 at Final Round. Capcom has yet to unveil the full schedule or final rules that competitors can expect for the 2019 Capcom Pro Tour season, but are expected to do so in early 2019.